CLARKSVILLE, IN (September 14, 2023) – In just a matter of weeks, residents in Clarksville will be heading to the polls to elect a new Town Council, Clerk-Treasurer, and Town Judge.  That means the candidates and their supporters will be ramping up efforts to earn your vote, including placing campaign signs around town.
This is a good time to remind residents and candidates about Town ordinances regarding signage. Indiana Code 36-1-3-11 states that for 60 days before a qualifying election, the Town cannot enforce sign regulations regarding the number or size of signs on privately owned property, if they are smaller than 32 square feet and not a threat to public safety.  An example of endangering public safety would be if the sign is in an area which creates an obstruction to the view of drivers.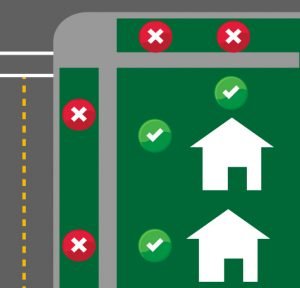 Another violation would be any signs placed in a public right-of-way such as medians or areas too close to the roadway.  If there is no sidewalk on the property, a good rule of thumb is to make sure signs are at least 6 feet from the road pavement.  If there is a sidewalk, the signs must be placed on the side of the sidewalk closest to the home/business.
If a sign is illegally placed in the public right-of-way or on public property, it will be removed by the Building Commissioner's staff.  Any confiscated signs will be held at the Building Commissioner's office at Town Hall for 24 hours to be reclaimed.  If not claimed during that time, the signs will be disposed of.
Anyone with questions regarding sign ordinances or Indiana Code may contact the Building Commissioner's office at (812) 283-1510.  You may also email questions to info@townofclarksville.com.
---
Interested in learning more about the candidates running for Clarksville's political offices? Click Here to visit our "Meet the Candidates" page.