Welcome to Beat the Heat
Beat the Heat
Beat the Heat is a new initiative from Indiana University's Environmental Resilience Institute and supported by the Indiana Office of Community and Rural Affairs that is designed to help communities deal with the impacts of extreme summer heat. In the Spring of 2021, the Town of Clarksville was awarded a grant for Beat the Heat, giving the Town the opportunity to both study the impacts of extreme heat in Clarksville and develop local strategies to alleviate the impacts of heat on the community. Beat the Heat is a 2-year program and will run from the summer of 2021 to the summer or 2023.
Attend a Public Meeting to Help Guide Clarksville's Heat Management Plan
During March and April of 2022, Beat the Heat will host four public meetings to gain community feedback on a heat management strategy before this upcoming summer. By attending any of these public meetings, Clarksville community members can learn more about Beat the Heat's work and help guide the strategy as it is developed this spring.
There will be two rounds of public meetings, with each round featuring one in-person meeting and one virtual meeting. During the first round of meetings, attendees will be invited to share their ideas and questions about preparing for hot summer days and nights in Clarksville. There will also be a short presentation to share the results from Clarksville's public survey, focus groups, and heat map. For the second round of meetings, Beat the Heat will present a draft version of the heat management strategy for attendees to review and provide feedback on.
In-person meetings will be hosted at 748 E Lewis & Clark Parkway and will provide Spanish interpretation. Virtual meetings will be hosted on Zoom. Registration details for the virtual meetings are included below.
Round 1 Public Meeting Schedule:
Thursday, March 17th from 7 to 8pm (in-person)
Monday, March 21st from 6 to 7pm (virtual). Register here.
Round 2 Public Meeting Schedule:
Thursday, April 21st from 7 to 8pm (in-person)
Monday, April 25th from 6 to 7pm (virtual). Register here.
Extreme Heat in Clarksville
Extreme heat in Clarksville refers to days with temperatures at or above 90° Fahrenheit and nights with temperatures at or above 68° Fahrenheit. On hot days and nights, people are at risk for heat-related illnesses, such as heat exhaustion and heat stroke. Some parts of the community are more vulnerable to extreme heat than others; this includes seniors, young children, pregnant women, people with certain health conditions, low-income communities, communities of color, people without access to air conditioning, and outdoor workers.
To date, extreme heat is the deadliest weather hazard in the US, responsible for more deaths each year than hurricanes, tornadoes, and flooding. The CDC reports that an average of 65,000 Americans are admitted into emergency rooms in the U.S. due to heat-related illness every year.
In addition to preparing residents for the high summer temperatures that are common in Clarksville, Beat the Heat will also work to reduce the impacts of urban heat islands in town and prepare the community for future rising temperatures.
Urban Heat Islands
On sunny days, dark building materials like concrete, asphalt, and dark rooftops retain more heat from light, causing those surfaces and surrounding areas to be hotter. As a result, areas with more buildings and parking lots often experience higher temperatures due to the urban heat island effect. However, strategies like increasing green space and using lighter-colored building materials can help cool down these heat islands.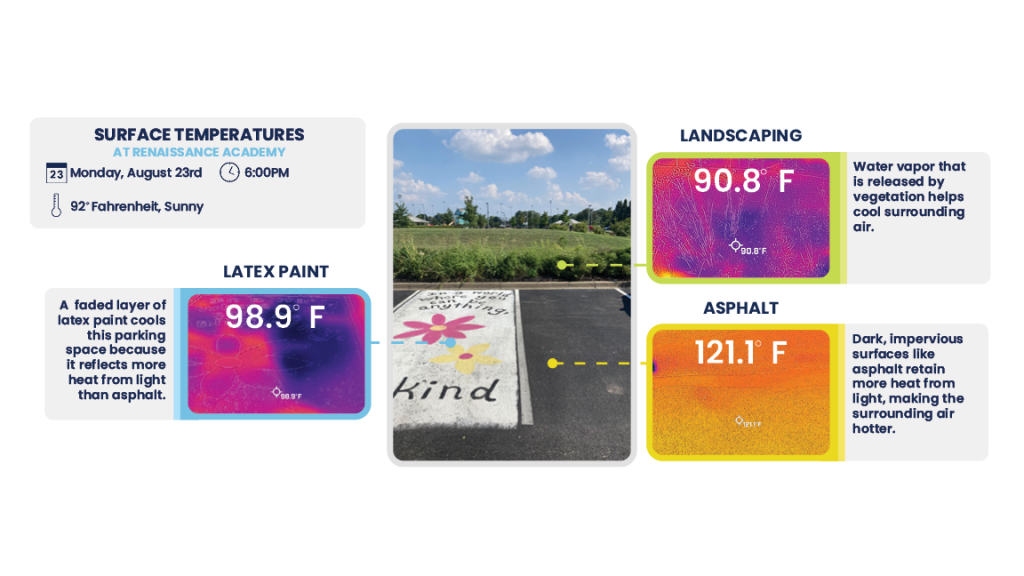 On Monday, August 32rd, a group of 15 volunteers participated in Clarksville's Heat Watch Campaign by recording air temperatures across town to create a heat map of the community. The results of this map will help identify the places and people in Clarksville that are most affected by summer heat. This map is being created in partnership with the National Oceanic and Atmospheric Administration's 2021 Urban Heat Island Mapping Cohort and in CAPA Strategies. When Clarksville's heat map is completed, it will be shared on this webpage.
Climate Change
In recent years, Clarksville has experienced an average of 42 extreme heat events per year. By the 2050s, this number is projected to be between 91 and 103 extreme heat events per year. To ensure residents stay safe during current and future extreme heat events, Beat the Heat is exploring several strategies, such as developing a Heat Wave Response Protocol, sharing public health and safety information, and establishing cooling centers across town on hot days.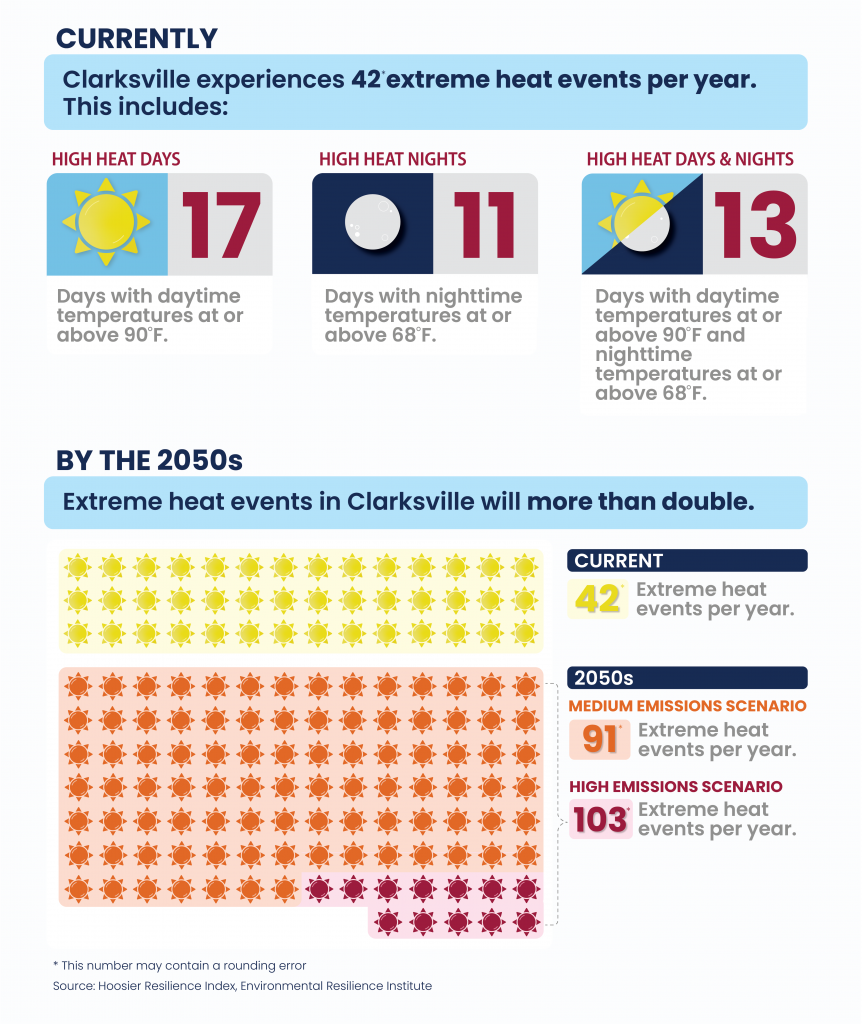 Program Timeline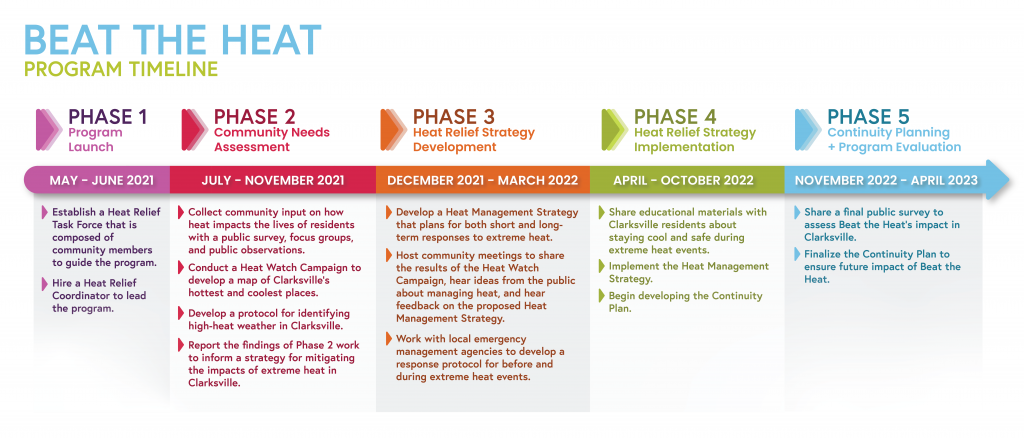 From summer 2021 to summer 2023, the Beat the Heat initiative will develop and implement a Heat Relief Strategy that will help residents stay safe and cool on hot days and nights. Currently in Phase 2 of 5, Beat the Heat is performing a community needs assessment to better understand how the Clarksville community is affected by extreme heat. Soon, Beat the Heat will be sharing a public survey with residents and will be hosting focus groups with people in the community to hear directly from residents about how their experiences with summer heat. Updates on the survey and focus groups will be posted on this webpage.
Get Beat the Heat updates!
Are you interested in keeping up with Beat the Heat? Sign up for the newsletter to receive updates about our work, public meetings, and ways to get involved!
PRESS
Clarksville's Beat the Heat initiative was announced in the News and Tribune in June 2021. Read the article here.
CONTACT