Welcome to Beat the Heat
What is Beat the Heat?
Beat the Heat is a new initiative from Indiana University's Environmental Resilience Institute and supported by the Indiana Office of Community and Rural Affairs that is designed to help communities deal with the impacts of extreme summer heat. In the Spring of 2021, the Town of Clarksville was awarded a grant for Beat the Heat, giving the Town the opportunity to both study the impacts of extreme heat in Clarksville and develop local strategies to alleviate the impacts of heat on the community.
 What is Extreme Heat?
Extreme heat is the deadliest weather hazard in the US, responsible for more deaths each year than hurricanes, tornadoes, and flooding. Historically, Clarksville has experienced 17 days with 90-degree temperatures or more each year. By the 2050s, residents can expect that number to be closer to 36 to 38 days a year. According to the Indiana Climate Change Impacts Assessment report, the number of extremely hot days will continue to rise significantly in all areas of the state due to climate change. Because of this, finding ways to keep Clarksville cool and ensure residents are safe during extreme heat events is becoming increasingly important.
What will Beat the Heat do?
From summer 2021 to summer 2023, the Beat the Heat initiative will work to develop and implement a Heat Relief Strategy. To do this, Clarksville has hired a Heat Relief Coordinator and is establishing a Heat Relief Task Force made up of government and community leaders.
This summer, Beat the Heat is participating in the National Oceanic and Atmospheric Administration's Urban Heat Island Mapping Campaign to create a heat map of Clarksville. With support from CAPA Strategies, local volunteers will record temperatures around town to identify Clarksville's hottest and coolest locations.
For more information, refer to the Project Timeline below, which provides an overview of Beat the Heat's current progress and future plans. This page will be updated as the project progresses.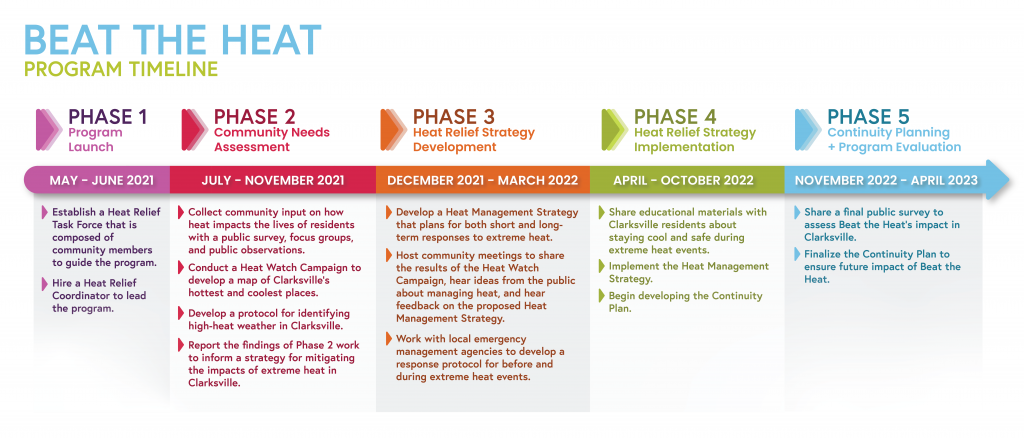 PRESS
Clarksville's Beat the Heat initiative was announced in the News and Tribune in June 2021. Read the article here.
CONTACT