CLARKSVILLE, IN (December 21, 2022) – The Clarksville Redevelopment Commission (RDC) selected the firm that will be tasked with developing the next section of Clarksville's new downtown area. Several developers submitted proposals for developing three blocks in South Clarksville, which total nearly eight acres. After much consideration, the Redevelopment Commission voted Tuesday evening to select Denton Floyd Real Estate Group to lead the project.
The properties to be developed are just a small portion of the 24-acre Marathon property which was purchased by the Town of Clarksville in 2020. Since that purchase, the area has seen tremendous growth in the area with the opening of the Bolt + Tie mixed-use community, as well as the Current812 luxury apartments which are currently under construction.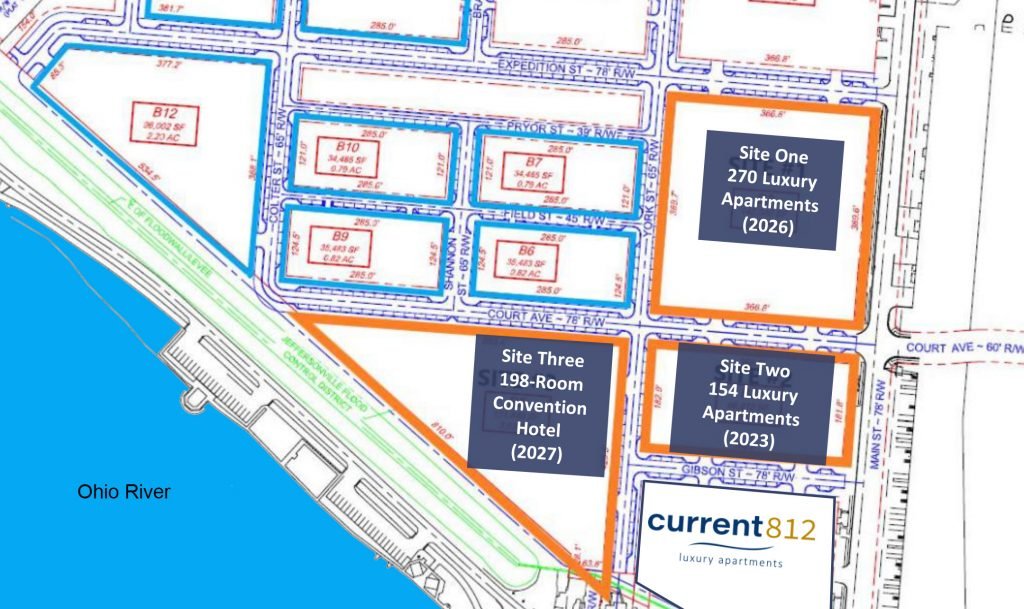 "The region's top developers continue to choose south Clarksville for their new developments," said Clarksville Town Council President Ryan Ramsey. "Momentum keeps building, exciting times lie ahead for our community."
Denton Floyd's plan calls for building two additional mixed-use luxury apartment complexes, with retail on the first level, and apartments and townhomes on the upper levels.  The proposal includes amenities such as a resort-style heated pool, outdoor common areas with fire pits and grilling stations, a pet park and pet spa, 24-hour fitness center, a business center, bike repair and storage area, and electric vehicle charging stations.
"We at Denton Floyd Real Estate Group are honored to have been selected by the Clarksville Redevelopment Commission to acquire and construct three separate mixed-use projects as a part of the Town of Clarksville's redevelopment master plan in South Clarksville," said Brandon Denton, Co-Founder, and Partner at Denton Floyd Real Estate Group. "Through our partnership with the Town and Hogan Real Estate, we are confident that these developments will add tremendous value to the surrounding community and further the Town's progress in creating an active and thriving downtown district."
Although this is just the beginning of a long development process, Denton Floyd's proposal calls for construction on the first property (Site 2) to begin in late 2023, with an opening in late 2025.  Construction on the second property (Site 1) is estimated to begin in late 2026 with an opening at the end of 2028.  However, area residents must keep in mind that this is only a tentative schedule.
No timeline has been set for the third property as it will be developed last, and the use of the property is still in question. Denton Floyd's proposal calls for the land to be developed into a 198-room luxury hotel and convention center, with a rooftop restaurant, resort-style heated pool with poolside bar, 24-hour Fitness Center, and a therapeutic day spa.
In total, the proposal cites more than $226 Million in combined private and capital investment between the three sites. As for next steps, Denton Floyd will need to finalize a development plan for the sites and take them to Clarksville Planning Commission for approval.
"We still have a long way to go before crews can break dirt on this project, but we are excited to take the next step in building a new downtown our residents can be proud of," said Clarksville Communications Director Ken Conklin. "We look forward to what Denton Floyd will be able to accomplish in South Clarksville."