CLARKSVILLE, IN (July 19, 2022) – Students were holding 'end of the school year' parties just days before a gunman entered Robb Elementary School in Uvalde, Texas in May. That gunman then went on a shooting spree killing 19 students and two teachers. It was an unbelievable act of terror that shook not only that small community, but the entire country.
That tragic day caused other communities across the country to question what police and the local school systems are doing to keep their children safe from harm. It also serves a grim reminder to law enforcement about the importance of being prepared for a worst-case scenario. After feeling a sense of shock like everyone else, Clarksville Police Chief Mark Palmer says he had a lot of questions when he first heard about the Texas shooting.
"My first thought was, how did he have such easy access to the school," said Clarksville Police Chief Mark Palmer. "How was he able to bypass the system and get to the kids?"
Chief Palmer says Robb Elementary had systems in place, but they failed. How that happened is still under investigation, but it is a reminder to Chief Palmer and his officers about staying vigilant in protecting our local schools. Chief Palmer says that starts with Clarksville's School Resource Officers or School Resource Officers. Currently the Town has two officers assigned as permanent SRO's. Officer Chris Bartley is assigned to the Clarksville Community Schools campuses, while Officer Ernie Fox is assigned to Parkwood Elementary of Greater Clark County Schools.
"We're very fortunate that we've had School Resource Officers in Clarksville since 2012, which is when we started the program. We've also had an Officer at Parkwood Elementary full-time for the last three years."
Chief Palmer says that when it comes to the SRO position, he doesn't feel like it should be an 'assigned' position. He wants to select officers who volunteer and choose to take that responsibility. It wasn't a question for Officer Chris Bartley, who quickly volunteered when the assignment became available. Bartley has been with Clarksville PD for 7 years, of which 5 have been as CCSC's School Resource Officer. Palmer says Bartley is a perfect candidate since he is a father, self-defense instructor, and an instructor with the Indiana Police Academy. Clarksville Community Schools Superintendent, Dr. Tina Bennett, says Clarksville is lucky to have Officer Bartley on campus.
"School Resource Officers are vital members of our school community and are integral in the implementation of school safety policies and practices," said Dr. Bennett. "They are trusted members of our staff and provide a direct link to local law enforcement. In addition, they are a valuable resource for safety education for staff and work with school administration to provide educational programming for students."
According to Chief Palmer, Clarksville Community Schools is a great partner to work with when it comes to securing our schools. As a matter of fact, active shooter drills have recently been performed at various schools systems across southern Indiana, and Clarksville received one of the highest ratings.
"They followed their plan so well that the SWAT team was able to quickly complete the drill and take the suspect into custody," said Palmer. "Clarksville had their ducks in a row."
Clarksville Community Schools also invests heavily in protecting its students according to Palmer. Most recently, the school system spent nearly $50,000 to install what is called 'Armor Glass', a film installed on glass doors which make them impact resistant. That means a person couldn't use something to break the glass, then reach in and open the door. Chief Palmer says all of the surveillance cameras in the schools are also tied into the server at the Clarksville Police Headquarters.
"We've worked out detailed maps with the schools, so if they say a suspect came in at door two, we can use the cameras to track that individual from the moment he enters the property," says Palmer. "So we can actually pinpoint his location when we arrive on the scene of an incident."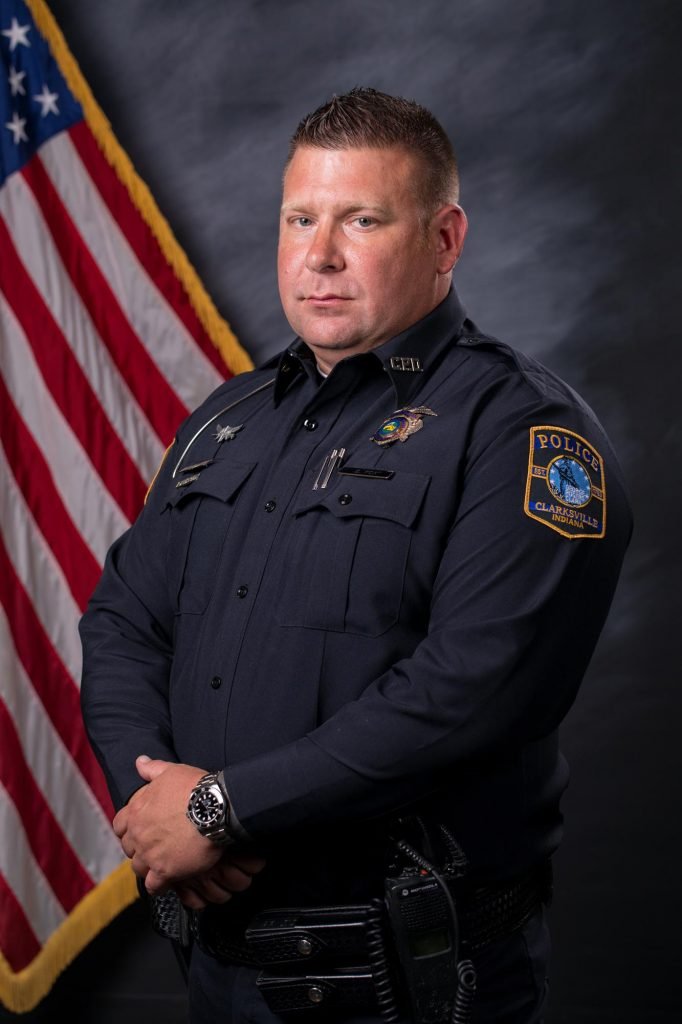 Parkwood Elementary is a bit different since the school belongs to the Greater Clark County Schools system. While CPD has had Officers in and out of the school for years, it wasn't until about 3 years ago that they had their first full-time School Resource Officer. That honor goes to Clarksville Police Officer Ernie Fox, who has been with the school from the beginning. Chief Palmer says Officer Fox is perfect for the position because, like Officer Bartley, he is a father as well. Palmer says Fox is also an excellent communicator and works great with the students at Parkwood.
Officer Fox is trained in self-defense and SWAT (Special Weapons and Tactics). Although this training is important to have, Chief Palmer says Fox's ability to build relationships and trust with the students is one of his greatest assets. Palmer says he and other Officers even jokingly call Officer Fox 'The Whisperer' because of his ability to reach local youth.
"He actually searches out problem students before they start having bigger issues. Officer Fox will take them aside and talk it out, whether it is getting away from everyone and going for a walk, or going to the gym and shooting hoops."
Whether it is at Clarksville or Parkwood, the School Resource Officers seem to be having a positive effect. Chief Palmer says emergency response calls to the school have gone down dramatically since the SRO program was put in place, which keeps other officers on the streets instead of at the schools. However, other officers do play a part in keeping the schools safe. Palmer says his regular officers have what they call 'school patrols', which involves patrolling school grounds and the surrounding neighborhoods. Officers are watching areas where students may be walking or biking to school, to make sure those areas are safe.
Looking forward, Chief Palmer says his department will continue working with the schools and teachers to improve student safety. One priority will be to get the same access to surveillance camera feeds at Parkwood like the department has at Clarksville.
"Having that same type of access to Parkwood's surveillance cameras would be invaluable to our officers," said Palmer. "So that is something we would like to make happen in the near future."