CLARKSVILLE, IN (February 3, 2023) – The Clarksville Youth Council is hoping to use art to combat a problem members say is affecting area youth. During the month of February, local students in Kindergarten through 12th grade are being asked to create artistic poster designs around the topic of mental health.
When the Clarksville Youth Council was created by the Town Council last summer, members were asked to discuss the most serious issues facing area youth. Bullying and mental health was one of the main topics of conversation. Youth Council members said the lack of interaction caused by COVID and school shutdowns had a lasting negative impact on them and their fellow students.
"The Youth Council was awarded a $1,000 grant from the Community Foundation of Southern Indiana, and I asked them how they would want to use those funds," said Ken Conklin, the Town's Communications Director and Youth Council Advisor. "They took a vote and decided they wanted to provide mental health resources to their classmates."
Youth Council members say the poster contest has two objectives.  The first is to find a design for a larger "Mental Health Matters" poster that will be printed and put up across the Town of Clarksville at locations frequented by youth.  Those posters will also have phone numbers and links to resources for students in need.  The second objective involves local parents.
"The Youth Council is hoping that this contest will start a conversation between students and their parents," said Conklin. "They believe it may be an easier way for parents to check in with their kids to see how they are feeling."
Students interested in participating in the contest must send a scanned copy of their 8.5in x 11in artwork to info@townofclarksville.com by Tuesday, February 28th. The winners will be selected during the Youth Council's next meeting on March 3rd. The winners in various age groups will receive a $50 Amazon gift card and have their work posted on the Town's website and social media channels. Flyers with contest rules will be distributed to local schools so they can promote the contest to their students. Participants must be Clarksville residents in order to be eligible for the contest.

Once the winners have been chosen, the Youth Council plans to use the designs in larger posters which will be posted around the Town of Clarksville in March. The Youth Council also plans to ask the Clarksville Town Council to pass a resolution naming March 2023 as "Youth Mental Health Awareness Month."
Contest Age Groups

Group 1: Kindergarten- 2nd Grade
Group 2: 3rd Grade – 5th Grade
Group 3: 6th Grade – 8th Grade
Group 4: 9th Grade – 12th Grade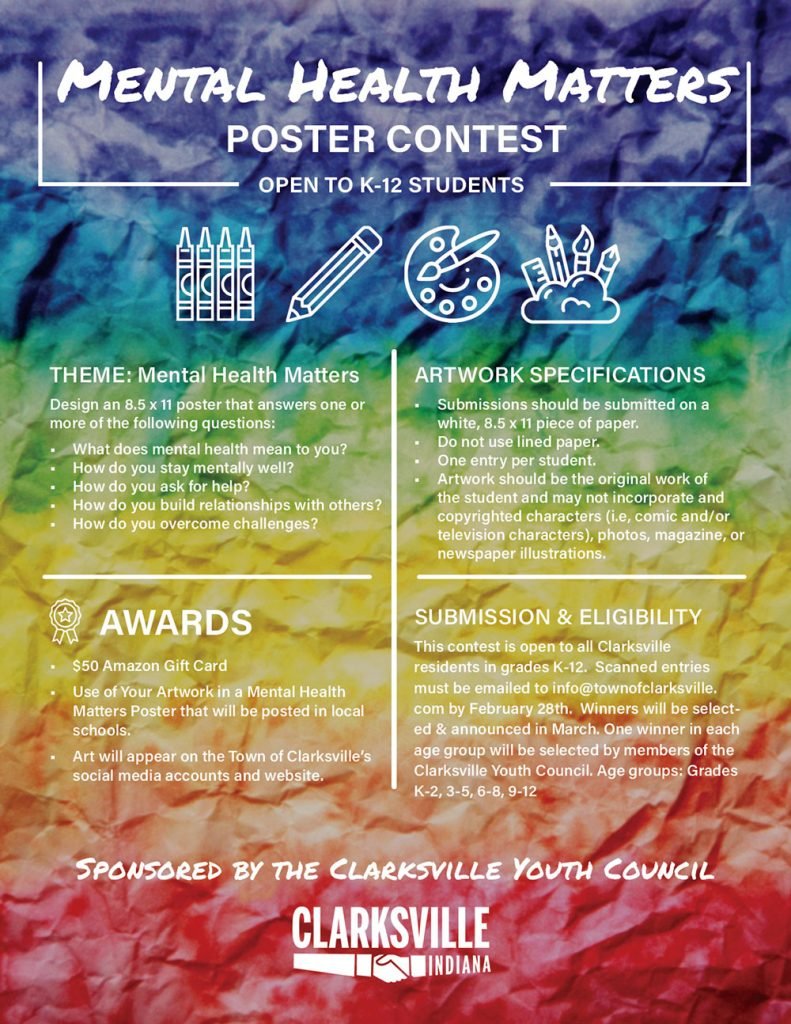 About the Clarksville Youth Council
Clarksville's Youth Council is made up of eight members, with two students from each of the following schools: Clarksville High School, Providence High School, Jeffersonville High School, and Silver Creek High School. The principals of each school select their representatives, and each student serves a term of one year. All students must be residents of Clarksville. Learn More