CLARKSVILLE, IN (November 28, 2022) – With residents from across Southern Indiana heading into town to shop, the holiday season is one of the busiest times of the year for the Clarksville Police Department. Despite working long hours this time of year, Clarksville Officers representing Fraternal Order of Police Lodge #144 still find time to give back to the Clarksville Community.
Earlier this month, several CPD cruisers rolled into the parking lot of Coyle Chevrolet with sirens blaring to donate 32 bicycles to the annual "Bikes or Bust" drive hosted by Mike Benson and Q103.1 FM. Those bikes will be given to local children in need. Detective Corporal John Miller with the Clarksville Police Department says the FOP voted overwhelmingly in favor of supporting the charity for another year.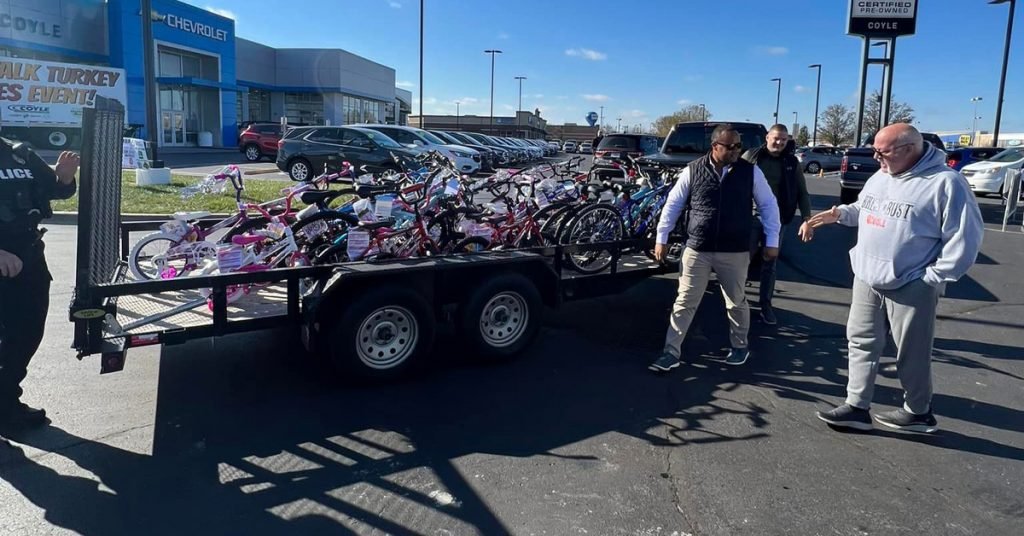 "Its always a good feeling, we enjoy doing it, and we know it is going to a good cause." said Miller.
Miller says he and his fellow FOP members are happy that the supply chain issues caused by the COVID-19 epidemic have subsided a bit, allowing them to purchase fully-assembled bikes. Last year, officers purchased all available pre-assembled bikes they could, but still had to buy and put together several bikes before dropping them off for donation.
"Fortunately, Mike Benson has some folks there to help us put those bikes together last year," said Miller. "(Laughs) I'm no manual labor guy, so it was nice they had people to help us."
With this year's donation of bikes in the rear-view mirror, officers with the Clarksville FOP Lodge are turning their attention to their biggest philanthropic event of the year. The Clarksville "Shop with a Cop" program was started more than 36 years ago with the FOP helping 10 local children get much needed items for Christmas. Each of the kids chosen for the program would get to shop with an officer for about $100 worth of clothes and toys. Today, the FOP annually supports 75-100 children, and spends about $300 per child.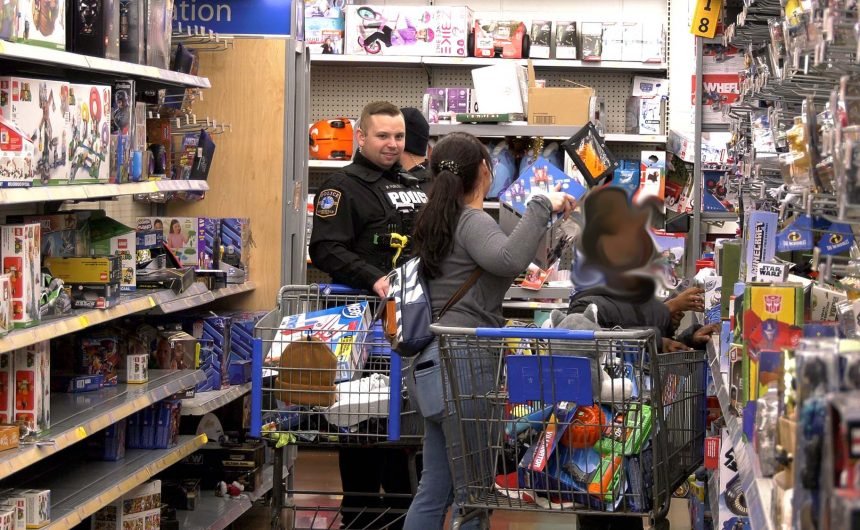 "'Shop with a Cop' is another great program that we are very motivated to support, because that is what we do, we give back," said Miller.
Officers with the Clarksville FOP hold several fundraisers throughout the year to raise money for the program. The FOP also counts on donations from the community to support their efforts, so officers traditionally hold a 'road block' one weekend a year at various locations around Town to collect donations from willing motorists. Drivers can expect to see officers collecting donations in the coming days. However, residents can also donate at the Clarksville Police Department.
"Its as simple as stopping by the Police Department near Town Hall, letting the staff in the office know that you are there to make a donation, and they will turn that money over to the FOP."
Miller says he likes when residents donate to the "Shop with a Cop" program because unlike other charities where the money could be spent elsewhere, residents can be sure that every dollar donated to the "Shop with a Cop" program will have an impact on the lives of Clarksville kids.
"We really do use this program as a way to help out those who are truly in need," said Miller. "We want to put a smile on every kid's face this time of year because its important to us, and we know it means a lot to them."
If you would like to donate to the Clarksville FOP "Shop with a Cop" program, please visit the Clarksville Police Department located at 1970 Broadway Street. Checks may be made out to the Clarksville FOP Lodge #144.