CLARKSVILLE, IN (November 4, 2022) – The new statue honoring Clarksville' "Rosie the Riveter" has only been up for a few months, but it is already starting to receive state-wide recognition. The statue was unveiled in Ashland Park back in September during a special celebration hosted by the Town's Historic Preservation Commission. Designed and created by The Weber Group of Sellersburg, the statue has become a destination for those wanting to honor the legacy of "Rosie."
The statue has become so popular, it has been included in a new "Coolest Things Made in Indiana" competition, sponsored by the Indiana Chamber of Commerce. The bracket style competition invites visitors to the Chamber's website to vote on various businesses and the cool products they create. The Weber Group is currently listed thanks to its work on the "Rosie the Riveter" statue. Voting will take place over the next month, with several rounds taking place to choose a winner.
Here is the Weber Group's submission: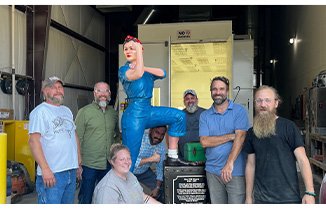 "Our project includes creating a life size replica of "Rosie the Riveter" in her celebrated girl-power "We Can Do It!" pose. Weber Group responded to an open RFP from the Town of Clarksville, IN. Weber Group was honored to be selected as the design build fabrication firm for the "Rosie the Riveter" Photo Op located at Ashland Park at 430 E. Riverside Drive, Clarksville, IN 47179 along the Clarksville riverfront, which features prominent view of the Louisville, KY skyline. The new replica was dedicated on 9.16.2022 by the Town of Clarksville and celebrated with fans of Rosie from all over the city and country."
The Coolest Thing Made in Indiana competition celebrates the state's long manufacturing history. Entered companies faced off in a single-elimination bracket format with winners chosen through public fan voting. Each winner advanced to the next round until we reached the coveted final four makers and an ultimate Coolest Thing Made in Indiana champion. The Fall 2022 field includes 54 Hoosier makers of all kinds of things – both familiar and emergent. For fairness, the matchups were generated via an online randomizer; due to the number of entrants, some entrants received byes to the second round.
Competition Timeline -Voting tips off November 3 and concludes November 30.
Round 1: November 3-7 (begins at 11 a.m.; closes 9 p.m. Monday)
Round 2: November 8-10 (at 9 a.m.; closes 10:00 p.m. Thursday)
Round 3: November 11-15 (at 8 a.m.; closes 10:00 p.m. Tuesday)
Round 4: November 16-18 (at 8 a.m.; closes 10:00 p.m. Friday)
Semis: November 21-23 (at 8 a.m.; closes 10:00 p.m. Wednesday)
Finals: November 28-30 (begins at 9 a.m.; closes 9 p.m. Wednesday)
*Champion announced December 14 at the 2022 Best IN Manufacturing Awards Luncheon.
CLICK HERE to visit the competition page to vote for THE WEBER GROUP and Clarksville's "Rosie the Riveter" statue.