When:
July 1, 2021 @ 3:30 pm – 6:30 pm
2021-07-01T15:30:00-04:00
2021-07-01T18:30:00-04:00
Where:
Old Service Merchandise Building
748 East Lewis & Clark Parkway
Clarksville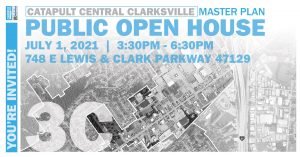 The Town of Clarksville is hosting an open house for the public to review the Catapult Central Clarksville [3C] Master Plan recommendations. The plan aims to create a long-term vision for redeveloping the commercial corridor along Lewis and Clark Parkway and Broadway Street. The 3C Master Plan defines a strategic framework for future redevelopment centered around nine key big ideas.
These big ideas include new neighborhoods, the stabilization and revitalization of the Lincoln Park Neighborhood, an employment district, a mixed use district, a signature park, the Discovery Trail Promenade, a hospitality district, an amenity infrastructure network, and a complete streets network. The project study area includes Lewis and Clark Parkway from Providence Way to Interstate 65, Broadway Street from Lewis and Clark to Woodstock Drive, Greentree Boulevard from Lewis and Clark to Blackiston View Drive, and adjoining properties. This plan addresses the impacts of e-commerce and big-box vacancies by balancing policy and design, diversifying land uses, identifying appropriate locations for new housing, promoting new employment opportunities, and identifying future public infrastructure needs.
The Town invites all interested citizens to attend the public open house to review design and policy recommendations. The open house format is informal; you are invited to review materials and participate in exercises at your leisure. We encourage you to follow plan progress at www.3cmasterplan.com and keep an eye out for future meeting announcements. The consultants will use the input from this meeting to write the draft plan.